Download the PowerPoint (Windows) and Keynote (Apple) presentation slides here below. You can find them in one zip file with the Dutch and English templates.
The slides are programmed in the secondary font Arial, because they are often shared outside of Ghent University. For example when you use a computer on location or when you send your slides to others outside Ghent University. More info: see. 4. Typography
Put your beamer resolution on 16:9 (via 'automatic detection' or 'wide screen'). Otherwise the logo's and images will be displayed incorrect.
PowerPoint: basic slides
There is a template for the central administration and a template for the 11 faculties. In English or Dutch. The basic layout is similar, only the faculty icon and colour are different.
Use the slide division to select the different types of slides.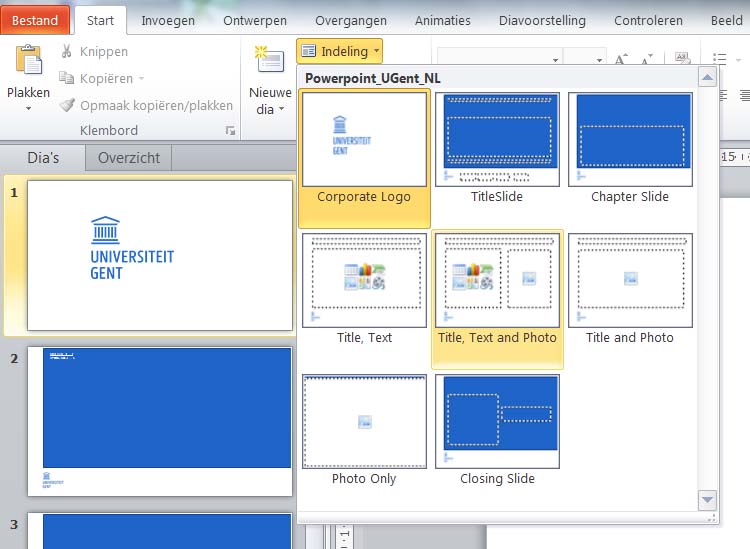 DOWNLOAD
PowerPoint presentation about Ghent University
The corporate presentation introduces the Ghent University in a concise way with actual numbers about education, research, internationalization and personnel.
CHANGE AUTOMATICALLY
How can you easily adapt your 'old' PowerPoint into the new corporate design?
Open the existing presentation.

Select "View".
Click the option "Slide Master".
Click the option "Themes".
Select "Browse for themes...".
Choose the PowerPoint template in the new corporate design and confirm with "Apply".
Select the button "Close Master View".
Check every slide and adjust where needed. Especially bullets provide some errors in the layout.
Keynote
For presentations on Apple devices.
DOWNLOAD