Scientific poster
For the layout of an academic poster, use these PowerPoint templates in format A0 (= 84.1 x 118.9 cm). Save the resulting file as a pdf and print it yourself or print it on paper / textile via the exclusive deal with printing office University Press.
For each faculty, a Dutch and English version is provided with an adjusted logo, faculty icon and colour. A version for research groups spread over various faculties and for Campus Kortrijk is also available.
This template is a first step containing preset basic elements such as logos, colour, frames, contact data and uploadable images. It can be used as a flexible tool; you can add or delete elements in either the slide or the 'slide master'.
Use a computer on which the font type 'UGent Panno Text' has been installed. You can of course in- or de-crease the text size or adjust the number of columns according to your content.
DOWNLOAD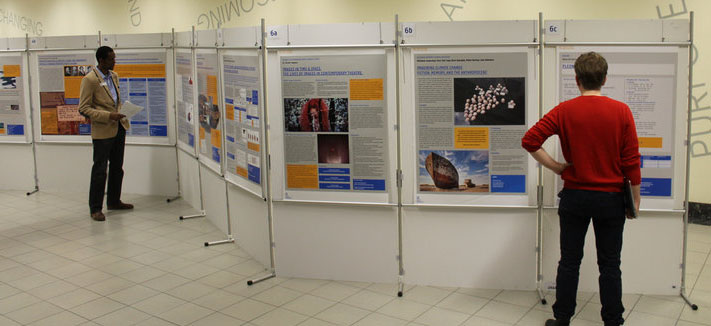 Poster for campaign or event
Do you want a poster for a project or event?
A poster stands out when you have a great combination of text and images. Make sure this matches within the imagery. Our corporate design is very recognizable via a basic design with blue colour fields: see examples at brand portfolio. Keep in mind all the basic principles (logos, colours, typography, imagery, grid ...). It is more powerful to design a unique image exclusively for your message.
You can print it via the exclusive deal with printing office University Press. They can also design for you using fixed templates. If you prefer to use a unique image or a more complex layout, the department of Communication and Marketing can help you find other graphic designers that know the corporate design perfectly: huisstijl@ugent.be.